Thanksgiving (USA)
We deliver for free to UVM Medical Center/Fletcher Allen (111 Colchester Ave) - use code "UVMMCFREEDELIVERY" when ordering online (cannot be used for non-UVMMC deliveries).
Thanksgiving activities will soon be starting. Give the holiday recipe a dash of autumn color by sending flowers online or shop for Thanksgiving table decorations, creative centerpiece ideas, and more at your local Burlington flower shop, Kathy + Co Flowers! Brighten your Thanksgiving turkey dinner with unique floral arrangements, like a table centerpiece for the host, cornucopia fruit baskets, contemporary floral vases or baskets of fall flowers. Let your holiday florist, Kathy + Co Flowers in VT bring warm smiles from across the miles at this year's Thanksgiving celebration!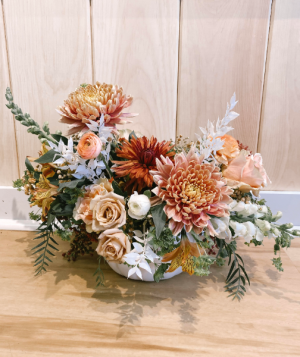 Light & Airy
We know that no one thing can truly make up for this rotten year, but we do hope that we can help take your mind off these crazy times by helping bring some light and joy into your household. Our Light & Airy Centerpiece is guaranteed to elicit cheer in all who look upon it. Some substitutions to flowers may need to be made. Wherever possible, we will use the same or similar flowers for this beautiful arrangement. However, your arrangement will always stick to this light & airy color scheme.
More Info