Luxury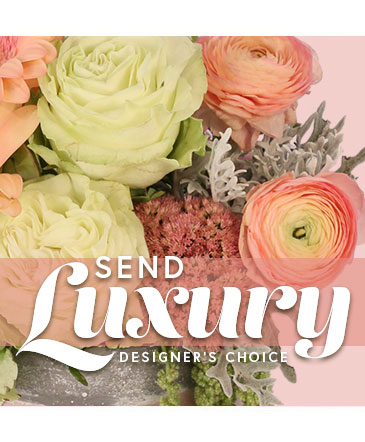 Send Luxury
Designer's Choice
Luxury never looked so nice! Shower your loved one in luxury today with a custom-designed floral arrangement. It'll be the highlight of their day! Our designers will create something truly magnificent and luxurious, specifically for them. We'll make sure it's as unique and beautiful as they are.
We offer free flower delivery in Burlington, VT to UVM Medical Center/Fletcher Allen (111 Colchester Ave) - use code "UVMMCFREEDELIVERY" when ordering online (cannot be used for non-UVMMC deliveries).
We currently are only offering the following for Mother's Day flower delivery: rose bouquets (vased and wrapped), Designer's Choice wrapped bouquets, Designer's Choice vased arrangements, chocolates, plushes, balloons, and plants.
Designer's Choice may sound odd, but our recent customers have unequivocally LOVED our novel approach. Our expert team has unmatched skills when it comes to creating the most unique, luxurious arrangements (our reviews speak for themselves: http://tiny.cc/t4jwtz), and we would love to provide you with the best and freshest flowers. Ordering is simple and fast, while our designers are allowed about 4x as much time for arrangements, so that all arrangements are carefully crafted (rather than hastily put together). Let us help you bring that person or yourself the most memorable arrangements received to-date!
Reasons to choose Burlington's favorite local florist Kathy + Co:
A super-friendly and quick ordering process!

Designer's choice means the freshest flowers and cohesive color and design schemes (we don't have to substitute with the wrong flowers and colors!)

Designers are allowed 40-60 mins per arrangement rather than 10-15 (industry standard) - our arrangements always look stunning!

We truly surprise the recipient and make sure they receive your gift in good condition- no calling ahead, we only leave flowers/plants outside if ALL conditions allow, and make sure to text and call/leave a voicemail!
Call us to buy flowers at a different price point from what is listed!
Sending a decadent floral arrangement has never been more simple thanks to our Luxury Collection. These luxury designs are brimming with fresh flowers like roses, orchids, hydrangeas, and other seasonal flowers. Ample in size, these bouquets are extraordinarily brilliant.
Special occasions call for special arrangements. Our luxury flower arrangements range from romantic to festive. With excellent quality from your local florist, these blossoms will make a memorable impression. Indulge in a little something extra, watch as the gift you choose lights up the room.