Hanukkah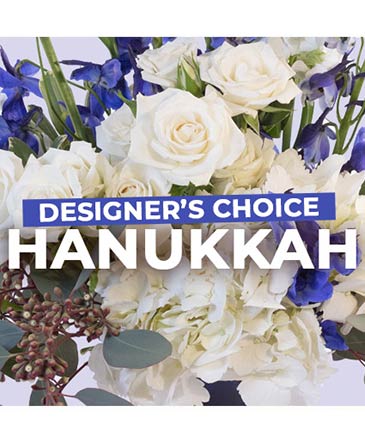 Hanukkah Florals
Designer's Choice
Hooray for Hanukkah! Light up the faces of those special loved ones and send flowers that they are sure to love a latke. And don't forget to decorate! Show off your joy during the Festival of Lights with exceptional floral decorations. Let us create something that is truly special and unique just like the blessings we receive each year.
Order within 1 hour 56 minutes for Same Day Delivery!
We deliver for free to UVM Medical Center/Fletcher Allen (111 Colchester Ave) - use code "UVMMCFREEDELIVERY" when ordering online (cannot be used for non-UVMMC deliveries).
Get the shamash ready to light the rest of the candles on the menorah, spin the dreidel, and get ready to eat great food like latkes, because it's time for the Festival of Lights. Celebrate Hanukkah this year with a bit of floral flair courtesy of Kathy + Co Flowers in Burlington, VT. Although traditionally a time of remembrance and prayer, Hanukkah is also well-known for the festivities and food that go on over the course of the eight days it is celebrated. Kathy + Co Flowers has a variety of flower arrangements designed specifically for the Hanukkah celebration, focusing heavily on the colors of white and blue. These flower arrangements can either be given as a gift or can be used to decorate for the festivities. Hanukkah floral centerpieces are perfect for adding that extra touch of festive spirit to the dinner table. Don't hesitate to make this Hanukkah a great one with help of festive flowers from Kathy + Co Flowers!