Get Well Flowers
We deliver for free to UVM Medical Center/Fletcher Allen (111 Colchester Ave) - use code "UVMMCFREEDELIVERY" when ordering online (cannot be used for non-UVMMC deliveries).
Let Kathy + Co Flowers of Burlington, VT help you send get well wishes to your friend or loved one. Show them how much you care with a floral arrangement or customized get well gift. A basket filled with snacks, bath products, unique jewelry and accessories, or a favorite stuffed animal is a great and easy way to cheer up a loved one. Top off your personalized gift with a fun balloon bouquet. Wanting something a little more traditional? There is no better or more simple way to remind someone that you're thinking of them than with get well flowers. Place your order online or call to customize a gift for that special someone. Let us be the ones to help you wish a loved one "get well soon."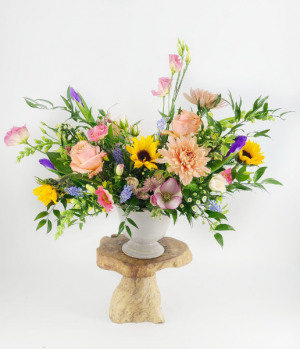 Premium Bright & Cheery Designer's Choice
Custom Arrangement
Surprise your loved ones and friends with this stunning bright and cheery designer's choice custom arrangement from Kathy + Co Flowers. A bright and cheery color scheme will be selected for this arrangement, which will be designed based on which custom, fresh flowers our experienced designers pick out for your piece! Please note that every arrangement made will vary based on which flowers and vases are available. Photo is just a representation of the quality you will receive and a possible color scheme that may be used! Call us at (802) 863-7053 for more options!
More Info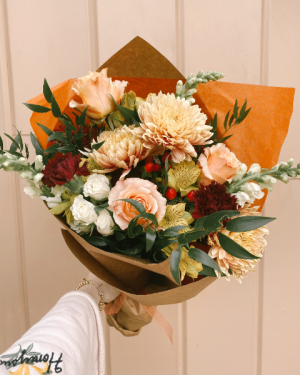 Designer's Choice
Wrapped Bouquet
A vibrant and stunning custom arrangement made just for you! A seasonal selection of flowers will be used in this WRAPPED BOUQUET, with each stem carefully selected to create a one-of-a-kind piece. Please note that availability changes often with the seasons, and therefore we cannot guarantee any specific flower types. This photo is just an example of the types of flowers that we might carry - but don't worry! Your piece will be unique! We use flowers and greens in the creation of these pieces, in order to provide varying textures, colors, and longevity!
More Info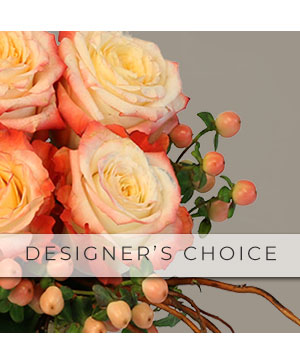 Designer's Choice
Flower Arrangement
We'll charm them with flowers! Our designers will create something alluring and delightful, perfect for anyone. We'll make sure it's a lovely and one-of-a-kind arrangement, made specifically for them. Trust us—we got you!
More Info
Hospitals and Health Care Providers in Our Delivery Area:

| Name | Address | Phone |
| --- | --- | --- |
| Alcohol & Drug Abuse Program | 108 Cherry St Burlington, VT. 05401 | (802) 524-7918 |
| Birchwood Nursing Home Corp | 43 Starr Farm Bch Burlington, VT. 05401 | (802) 863-6386 |
| Birchwood Terrace Healthcare | 43 Starr Farm Rd Burlington, VT. 05401 | (802) 863-6384 |
| Burlington Health & Rehab Ctr | 300 Pearl St Burlington, VT. 05401 | (802) 658-4200 |
| Burlington Housing Authority | 230 Saint Paul St # 1 Burlington, VT. 05401 | (802) 864-4650 |
| Converse Home | 272 Church St Burlington, VT. 05401 | (802) 862-0401 |
| Ethen Allen Residence | 1200 North Ave Burlington, VT. 05401 | (802) 658-1573 |
| Fern Hill | 214 N Prospect St Burlington, VT. 05401 | (802) 658-6442 |
| Fletcher Allen Health Care | 111 Colchester Ave Burlington, VT. 05401 | (802) 847-2450 |
| Golden Ridge | 435 Shelburne St Burlington, VT. 05401 | (802) 658-2628 |
| Heineberg Senior Housing Corp | 72 Heineberg Rd Burlington, VT. 05401 | (802) 658-6091 |
| Howard Center | 1 S Prospect St Burlington, VT. 05401 | (802) 488-6450 |
| Howard Center | 208 Flynn Ave Burlington, VT. 05401 | (802) 488-6000 |
| Lintilhac Nurse Midwifery Services | 111 Colchester Ave Burlington, VT. 05401 | (802) 847-1400 |
| Lund Family Center | 76 Glen Road Burlington, VT. 05401 | (802) 864-7467 |
| Ruggles House | 262 S Prospect St Burlington, VT. 05401 | (802) 862-5575 |
| Shelburne Hospitality Home | 236 Shelburne Rd Burlington, VT. 05401 | (802) 864-9356 |
| St Joseph Home For The Aged | 243 N Prospect St Burlington, VT. 05401 | (802) 864-0264 |
| Starr Farm Nursing Center | 98 Starr Farm Road Burlington, VT. 05408 | (802) 658-6432 |
| Starr Farm Nursing Ctr | 98 Starr Farm Rd Burlington, VT. 05401 | (802) 658-6717 |
| Three Cathedral Square | 3 Cathedral Sq Burlington, VT. 05401 | (802) 863-3868 |
| Tlc Nursing Associates, Llc | 12 North Street Burlington, VT. 05401 | (802) 735-1123 |
| Uvm Substance Abuse Treatment | 1 S Prospect St # 1415 Burlington, VT. 05401 | (802) 656-8714 |
| Vermont Department Of Health | 108 Cherry Street Burlington, VT. 05402 | (802) 863-7200 |
| Allen Fanny Hospital | 101 College Pkwy Colchester, VT. 05446 | (802) 655-1234 |
| Fletcher Allen Health Care | 101 College Pkwy Colchester, VT. 05446 | (802) 847-0000 |
| Green Mountain Nursing Home | 1102 Ethan Allen Ave Colchester, VT. 05446 | (802) 655-1025 |
| Holy Cross Senior Housing | 468 Church Rd Colchester, VT. 05446 | (802) 863-0121 |
| Anna Marsh Behavioral Care | 15 Pinecrest Dr Essex Junction, VT. 05452 | (802) 878-4399 |
| Silver Leaf | 88 Old Stage Road Essex Junction, VT. 05452 | (802) 355-3790 |
| Phyllis Perreaut's Cch | 5484 Stage Rd Jericho, VT. 05465 | (802) 434-2458 |
| Addison House | 152 College St Middlebury, VT. 05753 | (802) 388-4269 |
| Helen Porter Nursing Home | 30 Porter Dr Middlebury, VT. 05753 | (802) 388-4001 |
| Hospice Volunteer Services | 27 N. Pleasant Street Middlebury, VT. 05753 | (802) 388-4111 |
| Meadows | Po Box 8 Middlebury, VT. 05753 | (802) 388-4994 |
| Porter Hospital Inc | 115 Porter Dr Middlebury, VT. 05753 | (802) 388-4701 |
| Porter Obstetrics & Gynecology | 101 Collins Dr Middlebury, VT. 05753 | (802) 388-5660 |
| Arrowhead Senior Citizen Center | 46 Middle Road Milton, VT. 05468 | (802) 893-7964 |
| Jessie D Cook Home | 137 W Milton Rd Milton, VT. 05468 | (802) 893-7346 |
| C & R's Rch | 142 Plains Rd Saint Albans, VT. 05478 | (802) 527-1923 |
| Franklin County Home Health | 3 Home Health Circle Saint Albans, VT. 05478 | (802) 527-7531 |
| Heritage Lane Apartments | Po Box 1062 Saint Albans, VT. 05478 | (802) 524-9501 |
| Holiday House Nursing Facility | 642 Sheldon Rd Saint Albans, VT. 05478 | (802) 524-2996 |
| King's Daughters Inc | 10 Rugg St Saint Albans, VT. 05478 | (802) 524-5744 |
| Northwestern Medical Ctr | Po Box 1370 Saint Albans, VT. 05478 | (802) 524-5911 |
| Redstone Villa Inc | 7 Forest Hill Dr Saint Albans, VT. 05478 | (802) 524-3498 |
| Round Barn Homestead | 151 Federal St Saint Albans, VT. 05478 | (802) 524-6571 |
| Verdelle Village Inc | 596 Sheldon Rd Saint Albans, VT. 05478 | (802) 524-6534 |
| Arbors | 687 Harbor Rd Shelburne, VT. 05482 | (802) 985-8600 |
| Armistead Caregiver Services | 145 Pine Haven Shores Road Shelburne, VT. 05482 | (866) 284-1912 |
| Linden At Wake Robin | 200 Wake Robin Dr Shelburne, VT. 05482 | (802) 985-9400 |
| Pillars | 333 Morgan Dr Shelburne, VT. 05482 | (802) 985-8034 |
| Terraces | 5000 The Terraces Shelburne, VT. 05482 | (802) 985-2472 |
| Allenwood At Pilsbury Manor | 90 Allen Rd South Burlington, VT. 05403 | (802) 863-3926 |
| Apria Healthcare | 37 Commerce Ave South Burlington, VT. 05403 | (802) 865-7801 |
| Centerpoint Adolescent Treatment | 1025 Airport Dr South Burlington, VT. 05403 | (802) 658-7711 |
| Gazebo Apartments At Pillsbury | 1510 Williston Rd South Burlington, VT. 05403 | (802) 865-4461 |
| Harbor View Apartments | 16 Harbor View Rd # 101 South Burlington, VT. 05403 | (802) 863-8428 |
| Home Instead Senior Care | 41 Idx Dr South Burlington, VT. 05403 | (802) 860-4663 |
| Jeri-Hill | Po Box 2184 South Burlington, VT. 05407 | (802) 658-5000 |
| Mc Kenzie House | Po Box 2184 South Burlington, VT. 05407 | (802) 658-0341 |
| Pillsbury Manor | 1530 Williston Rd South Burlington, VT. 05403 | (802) 863-2386 |
| Pillsbury Manor | 20 Harbor View Rd South Burlington, VT. 05403 | (802) 863-7897 |
| Pines Senior Living Community | 7 Aspen Dr # 1 South Burlington, VT. 05403 | (802) 865-1109 |
| Eagle Crest Senior Housing | 102 Eagle Crst Williston, VT. 05495 | (802) 878-0524 |
| Taft Farms Senior Living Comm | 226 Tyler Way Williston, VT. 05495 | (802) 879-3333 |
| Vermont Respite House Inc | Po Box 954 Williston, VT. 05495 | (802) 879-0943 |
| Whitney Hill Homestead | 100 Whitney Hill Rd Williston, VT. 05495 | (802) 878-0997 |
| Williston Woods | 126 Williston Woods Rd Williston, VT. 05495 | (802) 879-1740 |
| Courtyard | 120 E Spring St Winooski, VT. 05404 | (802) 655-9320 |
| Spring Gardens | 83 Barlow St Winooski, VT. 05404 | (802) 655-2360 |
| Spring Gardens | 31 East Spring Street Winooski, VT. 05404 | (802) 655-0086 |